12 Ways to Slim Down Holiday Cocktails and Beverages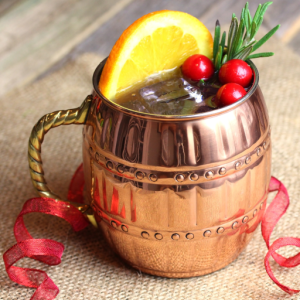 Many of us watch how many homemade cookies and candies we munch on this time of year, but monitoring the calories in holiday drinks can be more difficult to track, and they add up fast.
"So many holiday meals include predinner appetizers with cocktails, the meal with wine and then after-dinner dessert drinks to top off the evening," said Shae Mowry, MS, RDN, LDN, with Memorial Wellness Center. "All this can add up fast. Fortunately, there are practical ways to cut back on some of the excess without sacrificing celebrating the season."
It's not an either/or proposition either. The key to smart holiday cocktail and beverage prep is to visualize your strategy ahead of time. Even hot chocolate can sneak its way in if you don't manage all the extras.
Consider these 12 tips to cut down on holiday cocktail and beverage calories:
Swap for soda.
No, not full-sugar soda pop. We're talking soda water – calorie-free, hydrating and just as bubbly as its sugar-filled friend, tonic. Try mixing your liquor of choice with soda water for some serious calorie savings in the mixer department (only 90-100 calories per glass).
Downsize your stemware.
Some of today's wine glasses are enormous, opening the door for you to accidentally over pour wine and therefore calories. A traditional glass of wine should be 5 ounces and 150 calories, but some of these larger glasses can add up to more than 300 calories.
Slim down your mixer.
Move away from the full-calorie mixer. Try to experiment with lower or no-calorie alternatives to your classic favorites, like diet soda for regular, or light juices, or look for new mixers that tout lower calories with the alcohol already built in.
Lighten up.
Even swapping a regular beer for a light one can save you 50 or so calories per beer. Add that up over the course of a few beers, and you've got quite the savings.
Alternate.
Try alternating alcoholic beverages with non-alcoholic and calorie-free beverages, like soda water with a squeeze of lime or a diet soda. It's not just the alcoholic beverages that can trip you up. Winter favorites, like eggnog and hot chocolate, can also pack a lot of calories. Even better, alternate a glass of water between alcoholic beverages to help with hydration.
Mix it up.
When you are craving eggnog, fill your glass with half to three-quarter parts of low-fat or skim milk and one part eggnog. You'll still enjoy the flavor.
Act like a kid.
Skip adding alcohol to your eggnog. This simple step will reduce calories.
Cut the fluff.
Pass on that big dollop of whipped cream to avoid the extra sugar and fat. Stick to a smaller portion.
Find an alternative.
This holiday classic has many low-fat or soy versions that are just as tasty as the traditional, high-fat version of eggnog.
Skip the heavy stuff.
If you order hot chocolate at a restaurant or coffee shop, ask that it be made with skim or light soy milk and without the whipped cream.
Check labels.
To make instant hot chocolate at home, look for product packets marked "low-fat/fat-free" or "low-sugar/sugar-free." Be sure to add the mix to either low-fat or skim milk or to hot water.
Go easy on toppings.
If you enjoy topping off your hot chocolate with a little something extra, use five to eight mini-marshmallows instead of large ones. If using whipped cream, look for low-fat versions and stick to one tablespoon (about a rounded spoonful).