Almost 20 Years After Bariatric Surgery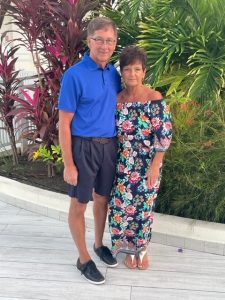 Nearly 17 years after gastric bypass surgery changed her life, Rosemary Tuetken knows that the journey to better health is a marathon, not a sprint.
It's an apt metaphor, as training for a half-marathon was one of the first athletic challenges Rosemary tackled after her surgery in May 2005. While she'd always loved being active, she began gaining weight in her 20s and 30s after the birth of her children and found herself unable to change her eating habits despite numerous attempts at dieting.
Today, after losing nearly 100 pounds, she enjoys bicycling, running, playing pickleball, going to the gym and spending time with her children and grandchildren. She maintains a healthy weight by keeping herself accountable. Her yearly checkup with Memorial Wellness Center serves as a reminder of the progress she's made.
"I use my annual appointment to keep myself in line," she said. "I don't ever want to forget what I've gone through."
Rosemary was one of the first patients to undergo laparoscopic bariatric surgery through the Memorial Bariatric Services program, which is now part of the Memorial Wellness Center. That program is celebrating its 20th year in 2022.
"We emphasize to our patients that weight-loss surgery isn't a 'quick fix,'" said Wendi Schutte, clinical manager, Memorial Wellness Center. "It's a lifelong commitment, and it's one that our team here at the Wellness Center will make alongside you. Rosemary is a great example of someone who has made that commitment and experienced long-term success."
Rosemary began researching bariatric surgery after her sister died of leukemia in 2004. The loss spurred her to explore ways to improve her own health, and she was aware that her family history put her at risk for complications of diabetes.
Her team with Memorial included not only surgeon Max Hammer, MD, and his staff, but also a registered dietitian, physical therapist and counselor who helped her with the work necessary to qualify for the procedure.
"Weight loss is about so much more than diet or exercise," Schutte said. "We focus on providing comprehensive care that addresses all facets of wellness, including mental and emotional well-being, both before and after a bariatric procedure."
"Wellness, both physical and mental, is a wonderful concept that we all recognize," Dr. Hammer said. "A recent publication by the American Heart Association identified factors associated with risk of mortality, including smoking, physical activity, nutrition, BMI, hypertension, diabetes mellitus and lipid disorders.  These seven metrics are the focus of all wellness programming.  The central Illinois region is fortunate to have a multidisciplinary facility which focuses on these metrics and offers all services conveniently on-site."
Rosemary said the support of Dr. Hammer and her team helped her stay motivated throughout the process. "I really felt like they cared," she said. She also benefited from attending weekly support group meetings, where she was inspired by the example of other successful patients.
Counseling helped Rosemary identify the triggers for her eating habits, and she was able to use those insights to shape her new behaviors. She also had to make a conscious decision to prioritize her own well-being instead of always putting others first. Today, in addition to living a more active lifestyle, she's proud of her ability to keep her diabetes under control without insulin.
At the same time, she struggled with self-confidence and even considered keeping the procedure a secret, anxious about what others would think. But as her friends and neighbors in the small town of Irving began to notice her significant weight loss, she decided to be open about her experience. Over the years, she's shared her story with many people considering a bariatric procedure.
Like many people, Rosemary noticed herself beginning to gain weight during the height of the COVID-19 pandemic—but she was able to use the skills she's learned over the years to make changes in her diet and reverse that trend.
Adjustments like those are key to long-term success, she said, emphasizing that maintaining weight loss after bariatric surgery isn't easy. "You're still human," she said. "There are still going to be ups and downs."
She advises anyone interested in losing weight by making a major lifestyle change to explore all their options for surgical and non-surgical weight loss and to take advantage of all the support offered through the Memorial Wellness Center programs.
"They gave me the tools," she said, "and I use them to keep a healthy lifestyle."
Related Articles
How One Woman Lost Weight and Gained Confidence
Make Healthy Nutrition Choices to Reduce Colon Cancer Risk
Losing Weight Requires Confidence, Persistence and Support