Avid Senior Cyclist Back to the Trail After Stroke Scare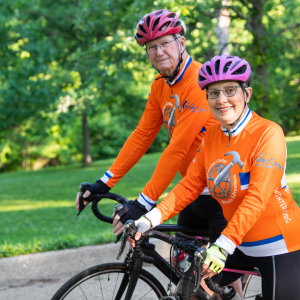 Ruth Ann and John Hamilton, both 76, had just celebrated their daughter's birthday with a family dinner at their home in Springfield. The dishes were done, their daughter and her family had left, and Ruth Ann was making a bowl of ice cream.
When she took John's bowl to him, she started to talk but nothing came out. She laughed it off and tried to speak again with no result. John asked her if she was OK, but she was unable to respond with words.
"Nothing in my face was drooping, and I didn't have any vision problems," recalled Ruth Ann. "I was walking fine. It was the speech deficit, and I knew right away it was a stroke."
John recognized the language struggle as one sign Ruth Ann had experienced a stroke. Once they arrived at the Emergency Department at Springfield Memorial Hospital, the stroke team went into action.
Stroke procedures included specific questions to determine probability of a stroke and tests including a CT scan. After a thorough review of the CT results, the neurologist described a small blockage and talked to them about tPA, which is a clot-busting drug. They administered the tPA to Ruth Ann well within the three hour window for best results.
Mandy Lyons, director of Emergency and Trauma Services for Memorial Health, described the ED stroke protocol:
"Our team is ready to treat those presenting with suspected stroke symptoms. We partner with other specialties to provide a thorough and fast examination to determine the best treatment options," she said. "As a comprehensive stroke center, our goal in the Emergency Department is to provide timely care from presentation to intervention. We are trained to provide robust stroke care in tandem with physician experts for optimal patient outcomes. Mrs. Hamilton's outcome is a testament of the high level of nationally recognized stroke care delivered at SMH."
John especially appreciated the straightforward communication he received about Ruth Ann's condition.
"Everything was explained clearly," he said. "Every step. They kept us informed – not with medical jargon – but explained so that we could understand what they were doing and why."
"I received excellent care," Ruth Ann said. "The procedure went smoothly, and the nurses were checking on me every few minutes."
Today, Ruth Ann is fully recovered. The retired teacher is an avid cyclist, and she and John returned to Springfield's Wabash and Interurban trails this spring before they tackled a cycling event in Ohio in late May. Their garden also provides great joy as does keeping up with their grandchildren.
She is grateful for John's quick response to her one stroke symptom and the stroke team at SMH for providing lifesaving care that has allowed her to return to the things she loves.
"I am very active and in good health, and this happened to me," she said. "It's important to know the signs and act quickly."
If you suspect stroke, remember B.E. F.A.S.T. = the Balance, Eyes, Face, Arm, Speech and Time test. Learn to recognize a stroke because time lost is brain lost. If you identify problems while giving this simple test, call 911 and seek medical help immediately.
BALANCE: Sudden dizziness, loss of balance or coordination.
EYES: Sudden trouble seeing out of one or both eyes.
FACE: First, check for facial weakness. An uneven smile or weakness on one side could mean trouble.
ARMS: Next, check for arm weakness. Inability to raise both arms evenly could be another sign.
SPEECH: Next, check for impaired speech. Slurred speech or difficulty repeating simple phrases could mean a stroke.
TIME: Call 911 … Time is Brain.
SMH is a Comprehensive Stroke Center, one of only ten Illinois hospitals with that designation, which means the hospital offers highly qualified physicians in key medical specialties including neurology, neurosurgery, diagnostic and interventional neuroradiology, neuro critical care and emergency medicine. The stroke center also employs the latest technology to provide patients with the full spectrum of treatment options and interventions as well as 24/7 expert care for the most complex stroke patients.
Related Articles
Decatur Stroke Survivor Educates Others on Stroke Symptoms
Why Strokes Can Happen At Any Age and What You Can Do About It
Recovery After Stroke