Back to School Anxiety: Tips for Kindergartners to Teens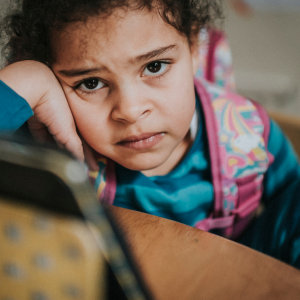 Back-to-school transitions can cause stress for your kids as they anticipate big changes from the summer schedule to a school routine. For most students of all ages, there can be a mix of excitement and anxiety about reuniting with friends as well as changes to comfortable routines. Regardless of whether a student is moving to a new grade in a familiar school or going to a brand new school, this time of year signals adjustments for all.
"Transitions can be difficult for people, no matter what your age," said Jonathan Ponser, LCPC, manager of child and family therapy with Memorial Behavioral Health. "Consider putting a plan in place to set your child up for success before anxiety kicks in."
Here are some tips to get started.
Kindergartners
Read books together about going to kindergarten.
See if you can visit the classroom ahead of time.
Whenever you drive by school, talk about it in positive terms.
Let your child help choose school supplies.
Set a bedtime routine a week or two out that mirrors the school one.
Elementary age
Remind student of positive memories from previous year.
Discuss areas of interest they will enjoy learning about.
Let your child help choose school supplies.
Return to a healthy school year sleep schedule.
Tweens
Run through schedule ahead at school if changing classes.
Practice combination locks and help them decorate and organize inside of locker.
Share your own struggles and how you coped when you were a tween.
Encourage your student to get involved in activities of interest.
Teens
This is a more self-conscious age. Your teen will appreciate more freedom in choosing school supplies and clothing that is on trend.
Keep communication open and candid.
Set clear expectations for the school year in terms of responsibilities and structure including family time, curfew, academics, dating, social media use and screen time.
"Don't hesitate to seek help now for your students if they exhibit signs of severe anxiety or depression," said Ponser. "We have seen an increase in the number of children (and adults) who are struggling to cope with everything that has been thrown at them the past couple of years. There is no shame in talking with a professional counselor and working through some of those emotions."
Memorial Behavioral Health is providing telehealth and phone appointments with their patients. In addition, MBH has established an emotional support hotline, available at 217-588-5509, to provide support to individuals who are experiencing anxiety or stress, even if they are not MBH patients.
Additional Resources
Teens and Depression
Vaping: Dangerous Trend for Tweens and Teens
Immunization Schedule
Is Your Kids Meal Really Healthy?
Fuel Your Child's Brain