Complimentary Physical Alerts Caddie to Atrial Fibrillation at Memorial Health Championship Presented by LRS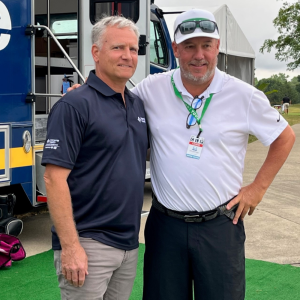 When professional golf caddie Rusty Stark arrived at the Memorial Health Championship presented by LRS, he quickly signed up for free skin cancer screenings being offered to the Korn Ferry Tour participants. A professional caddie for 13 years, Stark was aware that his outdoor work put him at greater risk for skin cancer, and he wanted to get checked out.
Almost as an afterthought, he also signed up for a free physical. Stark didn't have any health concerns, but he hadn't had a physical in a while, and he figured it couldn't hurt.
But when Dave Sandercock, MD, examined Stark, he heard irregularities in Stark's heartbeat and pulse. Dr. Sandercock immediately arranged for Stark to go to Memorial Care's urgent care facility in Chatham for an EKG. Further testing confirmed Dr. Sandercock's suspicion: Stark had atrial fibrillation, an irregular heartbeat that can trigger other serious health conditions, such as a stroke, if left untreated.
Memorial Health has provided medical care at the Championship for several years, under the direction of Nicole Florence, MD, and Anna Richie, MD. However, this year, the health services offered to Korn Ferry Tour golfers, caddies and tournament staff were expanded. They could schedule on-site physicals and lab work, receive physical therapy or chiropractic care, get care from orthopedists specializing in ankles and feet, and be screened for skin cancer by SIU Medicine dermatologists. Other services included consultations with behavioral health, IV hydration, massages and even pet therapy.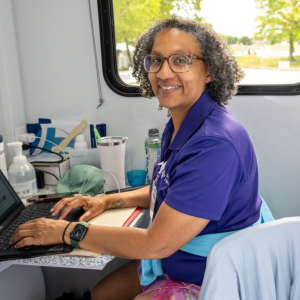 Florence said that Memorial Care providers diagnosed several other potentially serious health problems, including a suspected basal skin cell carcinoma, diabetes, prediabetes, abnormal cholesterol panels and a slow thyroid.

Overall, 64 people received physicals, while 63 accessed dermatology screening. More than 120 sought chiropractic care.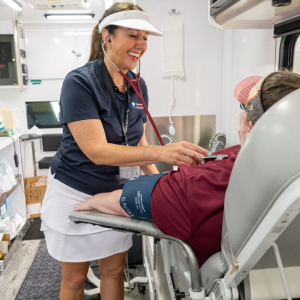 Florence, Richie and other members of the care team have formed relationships with some of the golfers who have played the MHC multiple times.
"This group is on the road, and it can be hard for them to access medical care," Dr. Florence said. "Some of them may not have health insurance. We're happy we can be a resource for them and provide care while they are here."
Stark, 55, said he had felt some fatigue recently, but had chalked it up to the demands of caddying in hot summer days, including a tournament in Oklahoma where temperatures hovered around the 100-degree mark. Caddies typically walk 18,000 to 22,000 steps during an 18-hole round, while carrying a 30- to 40-pound bag.
His diagnosis came as a shock, but Dr. Sandercock was reassuring, he said. He left Springfield with medication and the information he needed to arrange for follow-up care at his Houston home.
"You have those thoughts, 'Am I going to die? Am I going to be able to keep doing this work?'" Stark said of learning his diagnosis. "But Dr. Dave assured me that if I get this taken care of, I can manage this. Everyone put me at ease and explained the care. The care I got was a 10 out of 10."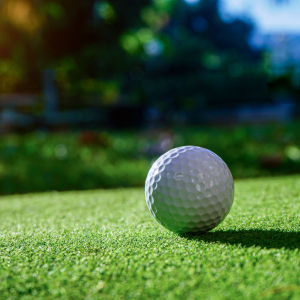 Stark said he had caddied before at the Memorial Health Championship and decided to work it this year, rather than the PGA Rocket Mortgage Classic in Detroit, for two reasons. One was the chance to caddy for Korn Ferry Tour golfer William Mouw, a prospect who Stark believes is destined to rise high in professional golf. The other was the amenities he remembered from earlier trips to the MHC, which he describes as "the best-run event on the Korn Ferry Tour."
Now he realizes those services may have saved his life.
"I almost didn't come to this tournament, and I'm sure glad I did," Stark said. "Somebody upstairs was looking out for me."
Related Articles
Get Your Golf On! The 2023 Memorial Health Championship presented by LRS