Count on Reliable Care with an Advanced Practice Provider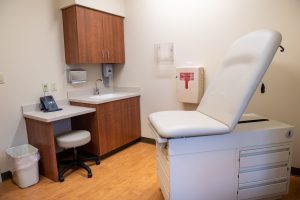 The partnership between physicians and Advanced Practice Providers (APPs) provides patients with easier appointment scheduling and expert care for routine visits.
Memorial Health APPs, including nurse practitioners (NP), physician assistants (PA), clinical nurse specialists and others, are highly educated, licensed individuals who provide a dedicated focus to patient care just like their physician and nurse colleagues. The main difference between physicians and APPs includes additional years of education for physicians and advanced training.
"I feel the biggest benefit for patients from the physician/APP partnership is increased access to care," said Kelli Turner, PA-C, with Memorial Medical Group in Jacksonville. "By utilizing APPs, patients can often be seen within days or even same-day for certain conditions. This is a great option for patients who have concerns that need addressed promptly or who have limited scheduling options due to work, child care or other obligations."
APPs fill an important role in Memorial Health's continuum of care. They work closely with physicians and patients to develop and plan treatment for both acute and chronic conditions. They help guide patients through specialist referrals and work with the entire healthcare team to prepare a complete picture of a patient's health.
"The APPs serve as extensions of the practices they work with," said David Sandercock, MD, with Memorial Medical Group. "They are well-trained when they come to us. They initially work with us to see how we navigate visits so they can maintain the consistency of the practice. They also have ready access to us during the day in the event a complex or unusual problem is being evaluated."
"The team approach is a great benefit for patients," said Abby Cunningham, APRN, also with Memorial Medical Group in Jacksonville. She has worked for Memorial Health for 12 years. "There are times a physician is scheduled out, and the APP is available to provide quick care. There are also situations when a health issue is of a private nature, and the patient prefers a provider of a certain gender to feel more comfortable for that visit. Being able to consult with each other on cases helps the patient receive the best care."
One common misconception is that APPs are in the process of becoming a doctor or that they require a doctor's permission to treat a patient. Many have no plans to pursue a physician's license. Turner notes that APPs are trained healthcare providers capable of independently assessing patients, developing a diagnosis, ordering diagnostics, medications and/or therapies and formulating a treatment plan.
"My favorite part of the role is definitely the patients," Turner added. "Working in primary care allows us to get to know our patients and their families very well. We develop relationships with them, cheer them on during the tough times and when they overcome their health obstacles. We look forward to seeing them in clinic and worry about them when they aren't doing well. I love being able to make someone's day a little brighter."
Schedule an appointment right now with a physician or an Advanced Practice Provider. Visit memorial.health to see available appointments offered through the full list of Memorial Care providers, including APPs.
Related Articles
Three Things to Consider When Choosing a New Doctor
Men Less Likely Than Women to See Physicians Regularly
Be Smart about Antibiotics Use: Three Things to Remember