Don't Miss "Fit-Day Event" in October for Those Fighting Breast Cancer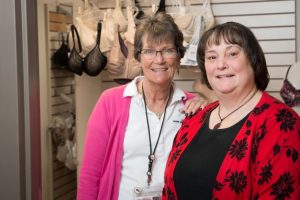 Memorial Home Medical Supply will go pink to honor those in a fight against breast cancer. Mastectomy boutique locations in Decatur and Springfield host a fit-day event every October for three days for women to review different options and learn how our certified custom-fitting specialists can aid them in their recovery. This event also allows women to share their heartfelt experiences with fellow survivors and our staff.
What is a mastectomy boutique? Before you have a lumpectomy, a mastectomy, a bilateral mastectomy or reconstruction surgery, it is helpful to make an appointment to visit a breast surgery boutique, which may also be called a mastectomy boutique. Our shops stock prostheses, clothing and other items that can help you feel comfortable and stylish and our specialists help you through every step of the journey.
"The women come in here not really knowing what to expect," said Pat Dianora, a custom-fitting specialist with Memorial Health. "I explain the process and the products and turn a stressful time into a somewhat more pleasant situation. We have programs through the Foundation that offer help for people without insurance or who can't meet their deductible. The woman are pleased to know all of their options and that we are here to help. If they leave with a smile, then I've done my job."
Come join us in either Decatur or Springfield to see what's new at our mastectomy boutiques, enjoy light refreshments and speak with our staff to find your best fit.
Decatur, 2875 N. Water: October 6 from 10 a.m. to 3 p.m.
Springfield, 644 N. Second: October 4 and 5 from 9 a.m. to 3 p.m.
Breast cancer patient assistance is available through Memorial Foundations for the purchase of items from our mastectomy boutique. Contact Julie Bilbrey, executive director of Decatur Memorial Foundation at 217-876-2146 or Melissa Hansen Schmadeke, executive director of Springfield Memorial Foundation at 217-788-4700.