Family, Friends and Caring Medical Team Key for Young Mom's Breast Cancer Journey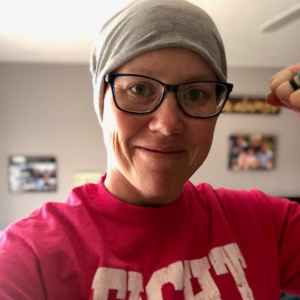 Jess Riney tries to never miss a Memorial Health Breast Cancer Support Group meeting. Encouraging others who are fighting their own battle motivates her stellar attendance as much as what she gains from the camaraderie and time spent together.
Her story is one of perseverance and bravery. The 38-year-old considered putting off her annual physical in December 2020 because of a COVID-19 surge. The Springfield stay-at-home mom was hunkered down with her wife, Crystal, and their two children, hoping to avoid the virus so they could celebrate the holidays with family.
Jess had lost a little weight and felt tired, but she attributed that to the new normal of keeping her homebound kids active. Her twin sister, Jennifer Collins, pushed her to go to the appointment anyway.
"She could see something in me that no one else could at the time," Jess said of her sister's intuition. "I will never forget that appointment. It was a milestone appointment. The doctor felt the lump and then examined my other breast. She said 'It's hopefully nothing, but we need to check it out.' I automatically had a bad feeling."
Jess had her first ever mammogram the day before Christmas Eve. She welcomed in the New Year with anxiety over a scheduled biopsy on Jan. 5. She sensed concern in the room during her procedure even though the radiologist remained positive. The next day as her children played nearby, she watched the turmoil of the U.S. Capitol riots on television and later that afternoon, she got the phone call that confirmed her worst fears.
"The nurse from Memorial Health told me 'You are going to be OK, but you are going to have to go through some hard things,'" Jess said. "I tried to keep my composure and get as much information as I could. The nurse told me 'I will stay on the phone as long as you need me.' From that point on, I felt such encouragement and support from the medical team and still do."
Jess was diagnosed with Stage 1 HER2+ invasive ductal carcinoma. Her journey included six rounds of chemotherapy, a lumpectomy, four weeks of radiation and three-week infusions for the rest of 2021 to help reduce the potential for reoccurrence.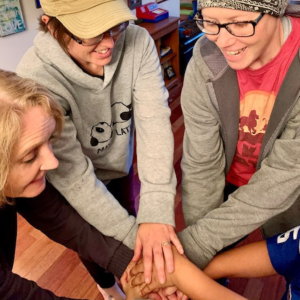 As she went through recovery, Jess' support team rallied around her. Fortunately, her mom and sister had each moved to Springfield from the Champaign area in 2019 to be closer to family. They were a constant presence at the Riney home. Jess also appreciated the support she found on social media with Facebook friends from all over. At one point, she asked everyone for their favorite "Fight Song" and created a motivational playlist she listened to during infusion treatments.
Her insurance provided a nurse care navigator she could talk with monthly to go over medications, updates on side effects and even counseling options. Her 86-year-old grandmother wrote her letters to lift her spirits before developing an aggressive brain cancer that took her life in two short months. Jess is grateful she felt well enough to visit her grandmother before she passed.
The breast cancer support group through Memorial Health also provided a safe space for her to share and listen to other survivors and their experiences – both good and bad. The group met virtually for several months in 2021 but is now back to meeting in person with a hybrid option for those who want to join from online. Naomi Wands, MSN, RN, OCN, nurse manager at the Regional Cancer Center, points to what makes this group so important.
"Only another cancer survivor can truly understand what someone undergoing cancer treatment will experience," Naomi said. "That diagnosis throws life out of balance as you are suddenly dealing with fear, surgery, body image, treatment side effects, hair loss, fatigue – and all while many women are still managing family life and/or working. This group truly holds one another up while sharing joys, fear, hugs and tears."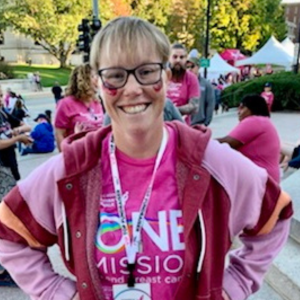 Before her cancer diagnosis, Jess felt like she lived her life to the fullest, but the aggressive form of cancer, which is currently in remission, has been a wake-up call. She strives to show her kids that even when you face something challenging, it is important to focus on the good. In her case, the outpouring of support from loved ones to acquaintances to the healthcare professionals who helped guide her journey made all the difference.
She is grateful she and her family found the light at the end of a dark scary tunnel. For women of all ages, she has this advice.
"Be as familiar with your body as possible so you can know when there is something different," she said. "It is so important to catch these things early. Screenings decrease the chance of late stage diagnosis. Don't skip appointments."
Interested in learning more about cancer support groups?
Contact Tia Rapps, BSN, RN, with the Regional Cancer Center at 217-588-5154 or email rapps.tia@mhsil.com.