Former Heart Transplant Patient Takes Ceremonial First Shot at 2022 Memorial Health Championship Presented by LRS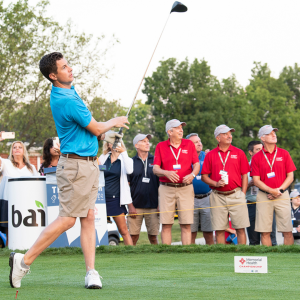 Clay Yates of Springfield was 31 when he received a new heart during a 10-hour procedure at Barnes-Jewish Hospital in St. Louis.
The former Division I college golfer (who lives in Panther Creek and golfs regularly there) celebrated that health victory on July 14 when he took the ceremonial first shot at the Memorial Health Championship presented by LRS (MHC).
"It's wonderful to see the support the golf tournament is getting," he said. "I appreciate the chance to help raise awareness about the importance of organ donation."
Clay had always been healthy and active, but he noticed shortness of breath after a 2019 vacation in Colorado. He wasn't overly concerned due to the higher elevation, but when the issue didn't go away upon his return to the Illinois flatlands, he went to a Memorial Care urgent care facility.
A nurse practitioner ordered a CT scan to be completed at Springfield Memorial Hospital, and the scan showed he had an enlarge heart and his lungs were taking in fluid. He was told to head to the Emergency Department immediately where he was admitted with a diagnosis of heart failure.
He was eventually transferred to Barnes-Jewish Hospital, where doctors unsuccessfully tried a series of medication to improve his heart function. Placed on the transplant list, Clay was near the top of the list based on the severity of his condition. Within a week, he underwent the procedure to receive his new heart.
"The first few moments after I woke up were the best of my life," Yates said. "Nothing was more special than being greeted by my wife, kids and family."
A highlight from the MHC was connecting with Korn Ferry Tour golf pro Erik Compton who attended the opening ceremony. Erik is also a heart transplant recipient, and he and Clay walked part of the course together.
Both are grateful for the quality healthcare they received on their journey to better health.
Proceeds from the MHC benefit the five hospital foundations of Memorial Health. The funds are used for education opportunities, research initiatives and programs in each of the hospital communities.
Related Articles
Kidney Transplant at Memorial Medical Center Changes Jacksonville Woman's Life
Heart Racing – Is It Love or Something Else?
Less-Invasive Advances in Heart Surgery