No More Waiting Rooms? When to Use a Virtual Care Video Appointment with a Healthcare Provider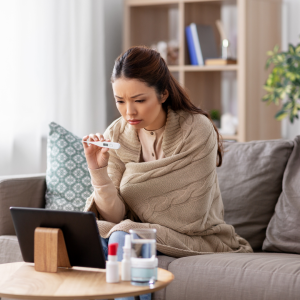 Virtual care through two-way video technology is an easily accessible and helpful healthcare tool to make life easier when you or a loved one feel sick.
Gone are the days when you felt like you lived at the pediatrician's office with your sick child for countless exams and antibiotic prescriptions. No more do you have to drag your own self out of bed and trek to the doctor's office for an in-person appointment to check out your own miserable symptoms.
For some programs, it is as simple as downloading an app to your smartphone or tablet. Once you are logged in to the app, simply select an appointment time and access the provided link when time.
Common illnesses and injuries treatable via virtual care include:
Adults
Cold and flu
Skin and eye infections
Urinary tract infections
Fever
Sore throat
Minor burns and cuts
Skin rashes
Children ages 1 – 17
Cough and cold
Croup
Pink eye
Rash
Runny nose
Sore throat
Headaches
For more information on Memorial Health's telehealth services, visit memorial.health.
Related Articles
Memorial Health System Expands Telehealth During COVID-19 Pandemic
Get Care When You Need It
Be Smart about Antibiotics Use: Three Things to Remember