Radio Interview about Prostate Screenings Changes Man's Life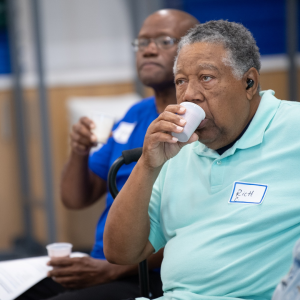 Educator Rich Bowen was driving to Western Illinois University for a conference in 1992 when he heard a radio interview about the importance of prostate screening. Bored with the drive, he listened to the entire program and decided to schedule a screening for himself the following weekend at Springfield Memorial Hospital.
After the screening, he learned his prostate-specific antigen (PSA) numbers were high. Further testing showed he had prostate cancer. He had no symptoms, felt no pain and was preparing to run a marathon.
That initial screening began a lifelong journey for him and his family. He is now 80 years old and has been treated for cancer several times since that original diagnosis in 1992. He regularly attends a cancer support group and shares with others about the importance of cancer screenings.
"I have always enjoyed helping people all of my life," said Rich. He started as a graduate teaching assistant at Purdue University in the Krannert School of Management and then spent 31 years at Lincoln Land Community College before he retired as Dean of Business and Public Service. "It comes easy to me to share information and encouragement with others – what the prostate is, what their numbers mean, how many people die from it and how many people get it."
With his education background, he stays informed about the latest developments in prostate screenings and options for treatment. Naomi Wands, MSN, with the Regional Cancer Center, got to know Rich when she coordinated the Prostate Cancer Support Group through Memorial Health. She appreciates how Rich has made it his personal mission to share his journey with others in the community so that they understand their risk and get screened.
"In general, men don't like to talk about their health and often avoid routine checkups," said Wands. "Many cancers don't have symptoms until the cancer is advancing. The key takeaway is to get your checkups and talk to your doctor about what screenings you need. Because Rich made the decision to get screened, he had many years where he was cancer-free and continues to have a great quality of life."
Today, Rich enjoys spending time with Cleatia, his wife of 53 years, their two adult children and grandson.
Related Articles
The Big 3 of Men's Urologic Health
Octogenarian Cancer Survivor Enjoys a Sweet Life After Treatment