Swing Bed Program at Lincoln Memorial Hospital Helps Atlanta Man Recover Closer to Home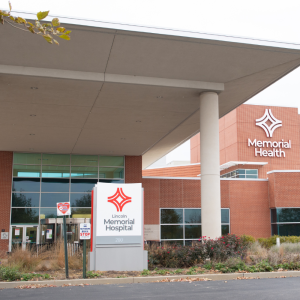 Raymond Jones, 76, struggles with balance issues and frequent falls because of Lewy Body dementia. After breaking his shoulder in several places, Raymond underwent shoulder surgery with Springfield Clinic orthopedic surgeon David Tapscott, MD, who installed a plate and pins into Raymond's shoulder to repair the fracture.
After the surgery, Raymond left Springfield Memorial Hospital for care closer to home. The Lincoln Memorial Hospital (LMH) swing bed program provided important care for Raymond after surgery. He required extensive nursing assistance and occupational and physical therapy to help him stand up and start moving again, to recover balance and to regain some walking ability.
"The care was absolutely phenomenal," Raymond's wife Cheryl said. "The doctors and nurses were fantastic, and the therapists were amazing. Everything had to be taught to him for using his left hand because his right shoulder was in a sling."
Amy Knox, PT, DPT, and lead physical therapist for Lincoln Memorial Hospital shared what was involved in Raymond's swing bed recovery. The physical therapy team used dynamic balance training, strengthening exercises and gait training to help Raymond prepare to return home.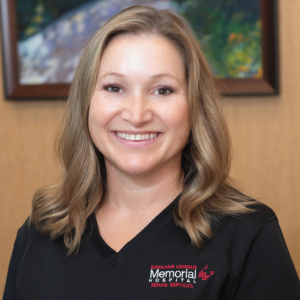 "At admission, Raymond required maximum assistance for bed mobility and transfers," she said. "At discharge, he was able to safely walk with a walker and transfer independently. That's the advantage of a swing bed unit. We can create a culture of mobility for our patients, increase family involvement and utilize equipment for the physical therapy team to simulate tasks the patients will need to do to safely return to home."
Before returning home, Raymond could use a walker to get around; he used grabbers to help put socks on; he learned how to use his arms effectively and how to sit down and stand up out of a chair. Local Marines supplied Raymond, a Vietnam veteran, with a lift chair, built a porch over the steps into the garage and then put a lift in.
"They were so patient with him," Cheryl said of the swing bed team's collaboration at LMH. "They could get him to do things I wouldn't have been able to do. Their demeanor and the way they encourage their patients is so helpful. They never pushed him, but they worked with him every day."
More recently, Raymond became dehydrated and started retaining fluids. It was determined he was in atrial fibrillation, and Cheryl appreciated the warm welcome Raymond received from LMH caregivers.
"The hospitalist came down and knew him immediately," she said. "Every person on that floor came in to say hi. 'Hey, Ray! What are you doing here?' That's what's beautiful about the hospital."
Visit memorial.health for more information about the swing bed program at both Lincoln Memorial Hospital and Taylorville Memorial Hospital.