Community Partnership in Decatur Benefits Students and Families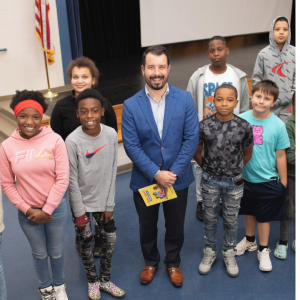 A special partnership this school year between Decatur Memorial Hospital (DMH) and Hope Academy brings the smiles and makes a difference for students and families. Hope Academy serves about 575 students in pre-kindergarten through eighth grade.
Each month, representatives of Decatur Memorial Hospital engage in reading sessions with third-, fourth- and fifth-grade students. Books are then donated to the school's library. DMH president and CEO Drew Early took the first turn, reading Super Paramedic! Katie Woo's Neighborhood by Fran Manushki to enthusiastic students, who responded with lots of questions for him about the hospital and his job.
"Hope Academy creates an environment in which teachers and faculty focus on the whole child and students are empowered with skills to become citizens who productively participate in society," said Tasia Burks, principal of Hope Academy. "When we partner with groups like Decatur Memorial Hospital, we expand our students' connection and engagement with their community and provide them and their families extra support to live their best lives."
A "Fall Family Night" will be held at the school which will focus on healthcare services available to Hope Academy students and families through DMH and Heritage Behavioral Health Center. A DMH campus-wide donation drive for healthcare supplies in December will help restock the nurse's office at Hope Academy.
DMH will also sponsor and present Stop the Bleed training for Hope Academy faculty and staff. In Stop the Bleed training, participants learn to recognize life-threatening bleeding and to respond quickly and effectively using three methods of bleeding control.
"By 'adopting' Hope Academy this school year, we at Decatur Memorial Hospital are actively engaging in our hospital's mission to improve lives and build stronger communities through better health," said Sonja Chargois, community health coordinator at Decatur Memorial Hospital. "It's been a wonderful partnership opportunity."