COVID-19 Survivor Grateful for Nursing Team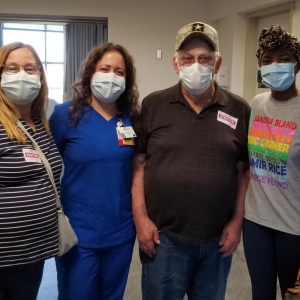 Cristina Greenwell, RN, remembers Jerry and Barbara Quimby well. Throughout December 2021, she was often assigned to care for each of them on the COVID-19 unit at Decatur Memorial Hospital (DMH).
"I remember how much Jerry cared about his wife and wanted to stay updated on her condition regularly even though he was seriously ill with COVID-19 himself," said Cristina. "He was a very brave and kind man."
Jerry, 77, an ADM retiree in Decatur, had enjoyed good health prior to COVID-19. He had both hips replaced, and he looked forward to gardening again. When he started feeling poorly in early December, he didn't notice any dramatic symptoms of COVID-19. He just remembers feeling tired all the time.
His daughters used a pulse oximeter at home to check his oxygen level. The reading showed 82, well below normal, and they took him to DMH where he was admitted to the COVID-19 unit. His wife Barbara, 85, was also admitted to the same unit. Her condition worsened, and she was put on a ventilator. She passed away on December 21, 2021.
"Jerry fought COVID-19 hard and patiently while his high oxygen requirements slowly decreased," Cristina said. "Fighting critical COVID-19 is a very long haul, and it was no different for Jerry. He had a long hospital stay. His family was very involved, and their constant contact by phone kept him going."
Once Jerry met his isolation requirement, Cristina was able to notify the family that he could have visitors, one at a time. She was grateful to be on duty that day to witness the many heartwarming and tearful reunions that took place.
Jerry was released home on December 28. Today, he is back to light gardening. He keeps up with his breathing exercises and walks regularly, which has helped him return to a more normal routine. He is grateful for the excellent care he received during the fight for his life.
"The nurses in the ICU were the best you could ever get," Jerry said. "They just went out of their way. Especially Cristina and Natalie (Kalala). I had excellent care."
Jerry and his daughter returned to DMH this spring to surprise his nursing team and to share with them how much their care meant to him.
"I can't really put into words how much it meant to see a COVID-19 patient we worked so hard to help recover come back in good health to visit," Cristina said. "To see Jerry fully recovered and hear the grateful words from him and his daughter makes me feel so very happy to this day! Their visit, kind words, his recovery and other recognition we've received helps make the struggles of being an ICU nurse truly worth it."
Related Articles
Expired At-Home COVID-19 Test – Is it Still Accurate?
Be Smart about Antibiotics Use: Three Things to Remember
Local Frontline Nurses Share Challenges of COVID-19 Patient Care