Eating Healthy when Prices Skyrocket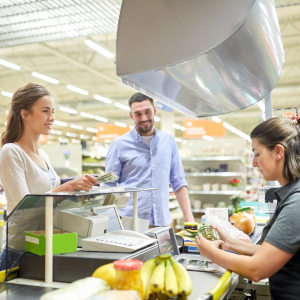 Grocery store trips continue to stress the wallet as inflationary pressures cause prices to increase on food and pantry items.
It's important to stay focused on healthy eating despite rising costs. With a little extra planning, your family can eat healthy snacks and meals while sticking to your budget. Here are some budget-friendly and healthy ideas.
Combine trips – use a master grocery list. The less you travel to the grocery store, the less gas you use plus you have fewer opportunities for impulse purchases. Also don't shop hungry.
Eat at home. When you cook meals at home, you control the ingredients, portion sizes and labor costs.
Identify meals you can prepare more cheaply at home. Set time aside on the weekend to do the prep work and freeze meals ahead for the work week.
Grow your own vegetables or shop at a local farmers market for the freshest produce and more intense flavors.
Buy in bulk only if you can use before the expiration date or if you can freeze the extra. Wasting food bought in bulk does not save money.
Feature high-nutrition, low-cost foods in meal plans. Use beans, peas and lentils and other legumes in place of more expensive meats or try a combination of beans and diced vegetables to "stretch" a smaller portion of meat. Other options include eggs; peanut butter; canned salmon, tuna or crabmeat; oats; brown rice; barley; quinoa; sweet potatoes; white potatoes; frozen or canned vegetables and fruits (fresh when in season).
Want to learn how to cook healthy meals on a budget? Register for cooking classes in the Culinary Medicine Teaching Kitchen at the Memorial Wellness Center. Call 217-788-3948 for more information or to register.
Source: Academy of Nutrition and Dietetics staff registered dietitians; American Dietetic Association.
Related Articles
Mindfulness and Nutrition
Infant Formula Shortage: What Not to Do
Snack Safety – Avoid Allergy Risks