Experts Share Risk Factors for Foodborne Illness and Discuss Why Food Safety Matters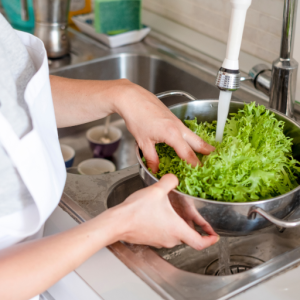 September is National Food Safety Education Month. According to the U.S. Food and Drug Administration, there are about 48 million cases of foodborne illness in the United States each year.
At Memorial Health, our five hospitals follow the FDA Food Code to protect and prevent our patients and patrons from developing a foodborne illness. Our local county departments of public health perform routine, unannounced food establishment inspections enforcing the FDA Food Code and ensuring all measures are in place to provide safe food service.
There are five major risk factors for foodborne illness, including improper holding temperatures, inadequate cooking, contaminated equipment, food from unsafe sources and poor personal hygiene. In addition, the FDA Food Code establishes five key ways restaurants, cafeterias and other food service settings can protect diners:
Demonstration of knowledge
Employee health controls
Controlling hands as a vehicle of contamination
Time and temperature parameters for controlling pathogens
Consumer advisory
Below, key food and nutrition personnel at our five MHS hospitals explain each aspect of safe food service.
Demonstration of Knowledge
Lincoln Memorial Hospital – Angela Whiteman, director, Hospitality
"During a food inspection, leadership is expected to demonstrate knowledge of foodborne disease prevention and all requirements of the FDA Food Code, including: colleague health and safety, cross-contamination, time/temperature control measures, food hazards consumption criteria and all other aspects of proper facility cleanliness."
Employee Health Controls
 Decatur Memorial Hospital – Kevin Mitchell, manager, Food and Nutrition Services
"Colleague health and education is important in stopping the spread of foodborne illness. Vomiting, diarrhea, jaundice and sore throat with fever are the most common symptoms reported from foodborne illness. We ask FNS colleagues not to report to work if they're experiencing the above symptoms to help reduce the risk of spread."
Controlling Hands as a Vehicle of Contamination
Springfield Memorial Hospital – Elizabeth Beets, director, Food and Nutrition Services
"When working with food, we wash our hands and exposed portions of our arms for at least 20 seconds in a sink specially designated for handwashing. We never touch ready-to-eat food items with our bare hands and do our best to avoid bare hand and arm contact with food items that haven't been cooked yet."
Time and Temperature Parameters for Controlling Pathogens
Jacksonville Memorial Hospital – Carolyn Clayton, director, Clinical Dietetics
"Cold foods should be held at 41◦F or less and hot foods should be held at 135◦F and above. Foods that leave these limits should not remain there for more than four hours. If a food passes the four-hour limit, it should be discarded."
Consumer Advisory
Taylorville Memorial Hospital – Becky Morrow, director, Hospitality
"In order to eliminate pathogens causing foodborne illness, food safety guidelines suggest you should avoid eating any animal product that is raw, undercooked or not processed properly. Food service establishments are required to notify diners if any of these items are being served, as well as the increased risk of foodborne illness these foods pose."