Hospital American Sign Language Interpreter Benefits from Foundation Support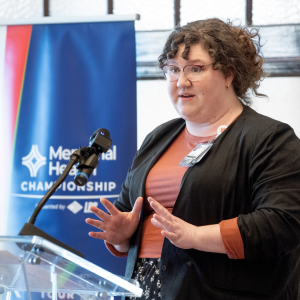 Randa Freeze-Rhea, an American Sign Language interpreter with Language Access Services at Jacksonville Memorial Hospital, just earned an advanced degree in healthcare interpreting from the Rochester Institute of Technology – thanks to funding assistance from the Jacksonville Memorial Foundation.
"I was able to study under a prominent researcher in ethical discussions," said Randa of her degree program. "That was hugely beneficial and opened up a pathway to getting supervision through the Interpreting Institute for Reflection-in-Action, which means I am paired with a leader and connect online with interpreters throughout the country to bring cases to discuss and break down."
The degree not only elevates her patient care but also helps her better direct others to needed resources, whether they are patients or deaf professionals.
"It is through the generosity of our donors and events like the Memorial Health Championship presented by LRS that we are able to come alongside and support the efforts of our colleagues as they seek opportunities to grow in their areas of expertise," said Pam Martin, executive director of the Jacksonville Memorial Foundation. "Randa's advanced degree will positively affect our patients and her outreach in the deaf community as well."
Memorial Health's five hospital foundations received all of the $85,000 raised by the charitable arm of the Korn Ferry Tour's 2022 Memorial Health Championship presented by LRS held at Panther Creek Golf Course in Springfield last July.
For more information on how to donate to any of the Memorial Health foundations, visit our website
Related
Get Your Golf On! 2023 Memorial Health Championship presented by LRS
Volunteer Opportunities Available at 2023 Memorial Health Championship presented by LRS