Memorial Health Celebrates 125 Years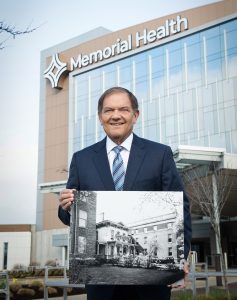 April 19, 2022, marks 125 years since the founding of our organization. Memorial Health began as a modest hospital and training school for nurses headquartered in a converted private home at Fifth Street and North Grand Avenue in Springfield. Over the years, our story has expanded to include the histories of the hospitals and organizations that have become part of the Memorial family. Today, we are truly a regional organization, serving patients across central and southern Illinois with services encompassing the entire breadth of healthcare, empowering people to live healthier, more fulfilling lives.
"While our founders would probably be amazed by the technology and facilities we have available today, I think they would recognize in our colleagues the same spirit of compassion and commitment that they had 125 years ago," said Ed Curtis, president and CEO of Memorial Health. "While much in health care has changed, we've stayed true to their mission and vision."
Today, Memorial Health comprises five hospitals, a network of Memorial Care clinics, behavioral health services and home care. Nearly 10,000 employees across the region serve patients in a variety of settings, providing a full range of inpatient, outpatient and virtual care.
"Reaching 125 years is a great achievement, but we haven't done it alone," Curtis said. "From our earliest days, we've been fortunate to have the support and goodwill of the people of Springfield and our region, and with their help, we continue to fulfill our mission."
April 19, 1897  |  Springfield Hospital and Training School (later Springfield Memorial Hospital) is founded.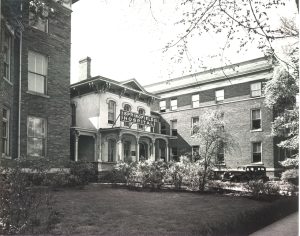 On Monday, April 19, 1897, a small but determined group of German Lutherans and local physicians opened the doors of the new Springfield Hospital and Training School. A brief article in the following day's edition of the Illinois State Journal described how Dr. William Langdon had used an experimental technology – the X-ray –to locate bullet fragments in a patient's knee. It was fitting that Dr. Langdon treated the first patient, as the hospital was located in his former home at Fifth Street and North Grand Avenue. That home can be seen here, flanked by two additions built in the decades that followed.
April 19, 1897, is only one important date in our history. Here are a few other key moments in time…
1875  |  Jacksonville Hospital admits its first patient.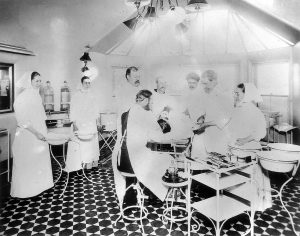 The first patient admitted to Jacksonville Hospital, on Nov. 24, 1875, was a young man injured in a railway accident. The hospital was later renamed in honor of Rev. W.A. Passavant, who had a nationwide reputation as a founder of hospitals, orphanages and other charitable institutions. A wealthy Jacksonville widow, Eliza Ayers, offered the former Berean College property on East State Street to Rev. Passavant to establish his fourth hospital and the 149th hospital in the United States. Over the years, the institution now known as Jacksonville Memorial Hospital became a trusted source of healthcare in Morgan County and the surrounding area, providing treatment like the early surgical procedure seen here. JMH affiliated with Memorial Health on April 1, 2014.
1899  |  An epidemic leads to a new hospital in Lincoln.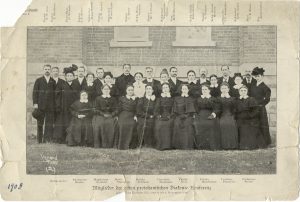 St. John Evangelical Deaconess Hospital (now Lincoln Memorial Hospital) was founded on Jan. 19, 1902, by members of the Evangelical St. John Church. They first began exploring the possibility of founding a new hospital following a typhoid epidemic in 1899 that had overwhelmed existing healthcare resources in the town of Lincoln. Rev. Hermann Schmidt's wife, Adelheid, had trained as a deaconess in Germany. Deaconesses took vows pledging to care for the sick, the elderly and those living in poverty. The early hospital staff (seen here in 1908) were committed to the same mission. In 1954, when a new hospital facility was dedicated, it was renamed Abraham Lincoln Memorial Hospital. The hospital affiliated with Memorial Health on Sept. 24, 1994.
1916  |  Decatur Memorial Hospital welcomes its first baby.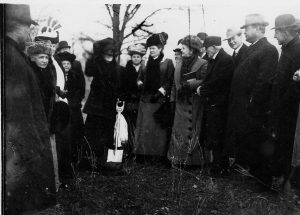 Decatur Memorial Hospital owes its founding to two remarkable individuals: Susan Hagaman, a local woman who dreamed of establishing a hospital where mothers could give birth in safe and modern conditions (seen here at the hospital groundbreaking), and Dr. William Barnes, a respected local surgeon who helped spearhead the project. Their vision became a reality in January 1916, when the first baby—Thomas D. Seldomridge—was born at the hospital. DMH became a Memorial Health affiliate on Oct. 1, 2019.
1948  |  Home care gets a lift.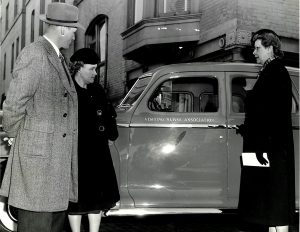 Home care has long been a crucial part of healthcare in our region. (The photo seen here shows representatives of the Visiting Nurse Association receiving a new car in 1948 through donations to the Springfield Community Chest, the organization that was the precursor to United Way of Central Illinois.) In 1984, Memorial became sponsor of the ten-county Visiting Nurse Association of Central Illinois. In 2000, a new affiliation with Alternative Care Services, which provided home care and supplies to residents of the Memorial service area, opened up new opportunities. In 2007, VNA and ACS were consolidated into the affiliate later known as Memorial Home Services.
1954   |  St. Vincent Memorial Hospital breaks new ground.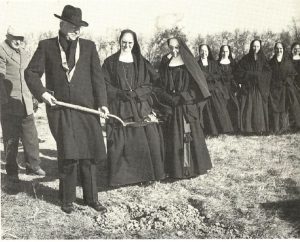 St. Vincent Memorial Hospital was founded in 1906 by the Adorers of the Blood of Christ, whose passion for caring for the people of Christian County helped overcome many obstacles over the decades. While the initial three-story, 20-bed hospital was located on South Walnut Street, in the mid-1950s, the Sisters presided over the construction of a new facility on TMH's current site. (The groundbreaking ceremony is seen here.) In 1995, Memorial Health became a joint sponsor of St. Vincent alongside the Adorers of the Blood of Christ. On May 1, 2007, it became a full affiliate of Memorial Health and was renamed "Taylorville Memorial Hospital."
1995  |  Physicians unite to care for their communities.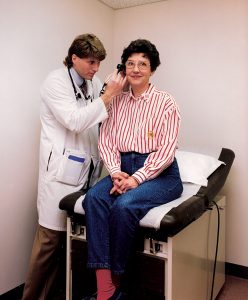 The year 1995 saw the birth of HealthCare Network Associates, or HCNA, an organization of established central Illinois primary care physicians. (HCNA physician Mike Sheedy, MD, is seen here with a patient in 1998.) HCNA evolved into Memorial Physician Services, the forerunner of today's Memorial Care clinics. Today, Memorial Care provides primary care, urgent care, laboratory and other services, allowing patients to access care in person or online via telehealth.
1996   |  Memorial expands its mission to include behavioral health.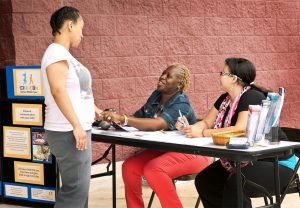 In 1996, Mental Health Centers of Central Illinois (MHCCI), which provided residential, outpatient and crisis care across six counties, became part of Memorial Health. Ten years later, the affiliate rebranded as Memorial Behavioral Health. Over the decades, MBH has been a leader in community outreach, providing crucial mental health services both at its clinics and through programs like MOSAIC, seen here.