Memorial Home Care Team Helps Ensure Smooth Return Home after COVID-19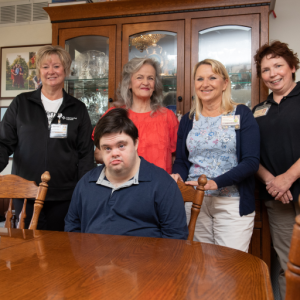 When Ryan Grosboll, 35, who has Down Syndrome and autism made it back home after a harrowing 77-day fight with COVID-19, it was the Memorial Home Care team who partnered closely with his family that helped finalize his return to normal.
Ryan lives in rural Petersburg with his mom, Nancy. After he was finally moved from Springfield Memorial Hospital to the swing bed unit at Lincoln Memorial Hospital, preparations began for his next step to eventually return home.
That's when Ryan's siblings started work on the house to make it accessible for his return.
Widened doorways on first floor.
Updated the bathtub to a walk-in.
Added a handrail to the garage step.
Located a hospital bed, wheelchair and a walker.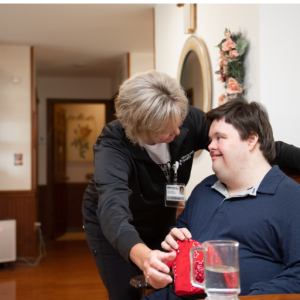 The physical adjustments were just one part of the recovery process. Nichole Fultz, manager of clinical services for Memorial Home Care, put together a team that included occupational therapy, physical therapy, speech therapy and a home health nurse to help move Ryan forward in his recovery.
"I was most concerned with Ryan possibly choking," said Ryan's mom, Nancy. Amy Booker, speech language pathologist, conducted an evaluation and two home visits with Ryan and Nancy to work with Ryan on his swallow dysfunction.
"I worked with them on safe swallowing techniques, what to be alert for, signs and symptoms of aspiration," Amy said. "As he progressed with thickened liquids, we did trials of thin liquids during therapy to monitor for aspiration. He progressed very quickly, mainly because of his mother's supervision at meals and snack time. She was on top of everything."
Katie Mullen, an occupational therapist, worked with Ryan on everything from using utensils at mealtime to mobility issues including moving up and down from the sofa, kitchen chair or the floor, where he liked to relax. His ease of movement had not returned to pre-hospitalization levels, so everyday tasks like using the toilet or pulling pants up and down were more challenging.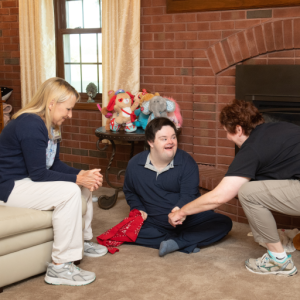 Katie worked with Sandi Taylor, a physical therapist, to help with Ryan's foot drop, which made him a fall risk. She gave Nancy foot drop stretching exercises to do with Ryan to strengthen the muscles in his foot. They practiced on the stair from the garage into the house using the new handrail.
"He had come most of the way by the time he got home," Sandi said. "He was able to walk but he dragged that left foot, which of course was a fall risk. He actually figured out his own work-around that if he turned his left leg to the side, he could walk more smoothly."
Ryan is surrounded by a big loving family, all of whom helped in one way or another in his recovery.
"After going through all that he did, we are just happy he made it home," said Ryan's sister, Angela Schilsky. "And that he was getting better! Nichole Fultz put together a great combination of therapists. He was really able to compensate in his environment once he came back home."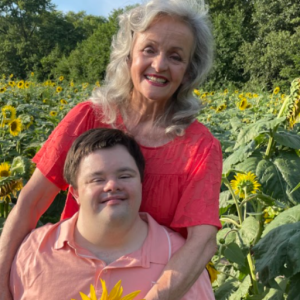 Ryan's mom Nancy also credits a higher power.
"We had faith he would be healed," said Nancy. "We were all praying."
Learn more about Memorial Home Care services at memorial.health.