New! Fall 2022 COVID-19 Boosters: What's Important to Know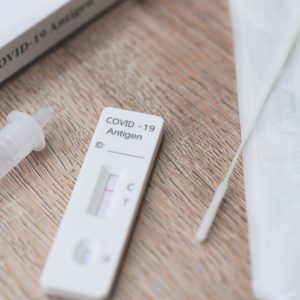 There are new weapons in the fight to protect yourself against COVID-19. The Food and Drug Administration (FDA) has granted emergency use authorization to a new pair of COVID-19 booster shots designed to help protect people from the most prevalent subvariants of the current strain: Omicron BA.4 and BA.5.
Gina Carnduff, system director for Infection Prevention at Memorial Health, shares how these vaccines differ from previous COVID-19 booster shots, who is eligible to receive them and how they affect scheduling your flu shot.
What are these new COVID-19 boosters and how do they differ from the existing ones?
It seems complicated, but it really isn't. The bottom line is that this new booster will protect most people against both the original 2019 strain of COVID-19 and the current predominant subvariants of Omicron, BA.4 and BA.5.
Previously COVID-19 booster shots have been monovalent or univalent. That means they only contained one version of the mRNA sequence for the SARS-CoV-2 virus' spike protein — the one that came from the original strain which emerged in late 2019. The boosters that just got approved are considered bivalent vaccines. That means they contain the mRNA sequence for the spike protein of two strains of SARS-CoV-2: the original 2019 strain AND the current predominant subvariants of Omicron, BA.4 and BA.5.
Who is eligible for a bivalent COVID-19 booster shot?
The two vaccines have different age restrictions.
Moderna: 18 years and older
Pfizer: 12 years and older
You only need a single booster shot of the bivalent vaccine to be considered fully boosted. However, you must be fully vaccinated with either Johnson & Johnson/Janssen's original one-shot regimen or Pfizer or Moderna's original two-shot regimen. You're eligible to get a bivalent booster shot two months after you've been fully vaccinated.
Can I get a bivalent booster now if I just recently got my second monovalent booster?
You should wait until two months have passed since your last booster shot.
How long do I need to wait to get the bivalent booster if I've had COVID-19?
If you were seriously ill, please wait until the worst of your symptoms have resolved and you have met the criteria to leave isolation. Patients with recent COVID-19 infections also have the option of waiting three months instead of two (counting from the time they first showed symptoms or tested positive) to get a booster shot. Talk with your doctor to determine the best timing for you to get one if you have any questions.
What about the flu vaccine? Are there any special considerations regarding the scheduling of these two vaccines?
The Centers for Disease Control and Prevention (CDC) say there's no need to stagger your vaccinations. If you're due for both, you can schedule your flu shot and your COVID-19 booster at the same time on the same day. Want to schedule your flu shot? Check out our area clinics here.
What if I don't want to use the same manufacturer as my first two vaccinations? Is there any reason not to mix and match boosters?
It's OK to mix and match as long as you're eligible for the vaccine you prefer. Data continues to show no big differences between those who mixed and matched and those who didn't.
Where can I find a bivalent COVID-19 booster?
Memorial Health now offers boosters at Memorial Care on South Sixth St. in Springfield. Schedule yours here. You can also obtain a bivalent COVID-19 booster anywhere you'd normally get a COVID-19 vaccination or flu shot including local health departments and pharmacies. Check out vaccines.gov to find a location near you if you aren't located in the Springfield area.
Additional Resources