New Nurses Adapt and Shine in Healthcare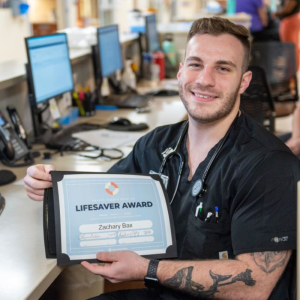 Zachary Bax, BSN, RN, was still in nursing orientation this past July when he noted changes in the condition of one of his patients who was critically ill. When the newly hired nurse checked the patient's pulse, he found none, and he immediately started CPR. That prompt assessment and action saved the patient's life, and Zachary was nominated for a Lifesaver Award.
Newly graduated nurses are making a positive difference at Memorial Health, according to Jennifer Bond, chief nursing officer for Springfield Memorial Hospital.
"In the fast-paced and demanding healthcare world, we work hard to recognize and celebrate the contributions of our incredible nurses," Bond said. "It always amazes me to see how quickly new nurses learn to navigate protocols, master patient care coordination and demonstrate the interpersonal skills it takes to be seen as an effective and competent caregiver. Their enthusiasm and commitment as they enter the front line of patient care is contagious."
Zachary received the Lifesaver Award, which recognizes care team members who demonstrate critical thinking skills that lead to recognition and a quick response in identifying patient decline.
"Zachary demonstrated excellent critical thinking skills by recognizing patient decline and a lethal heart rhythm," said Angela Hermes, nurse manager for 3C ICU at Springfield Memorial Hospital. "He initiated CPR and alerted the code team."
The nurse manager was especially impressed with Zachary's confidence in his assessment skills to act immediately and independently, especially since he had just transitioned from a patient care tech role to a new graduate RN position in the ICU.
Confidence is an important part of the transition from the classroom to the bedside, Bond added.
"We have a remarkable team of experienced nurses to support our new grads and help build confidence in their skill sets," Bond said. "Their leadership and mentorship has created a learning environment where new nurses can successfully enter the profession and have an immediate impact on patients in our community."
Interested in a nursing position at Memorial Health? Visit jobs.memorialhealth for openings.