New Updated Birth Suites Impress Family at Springfield Memorial Hospital (SMH)
Alanna and Blake Wood of Springfield appreciated the new updated birth suites at SMH when Alanna delivered their son, Nolan Wood, in early August.
"It was so nice that all the after-birth procedures on me and Baby Nolan could be performed in the room," Alanna said. "Blake also enjoyed the couch that folded into a flat bed and the comfortable reclining chair in the room. The updated bathroom was also very clean and spacious."
This summer, SMH completed renovations to its Family Maternity Suites, which involved updating 23,464 square feet of space including 10 labor rooms, nine postpartum rooms and two obstetric emergency spaces, as well as a newborn procedure room, a well newborn nursery and a special care newborn nursery.
Around 1,000 babies are delivered at SMH each year, according to Kathryn Patrick, RN, and the Family Maternity Suites nurse manager.
"Our renovated Family Maternity Suites allow our families to experience the birth they want in an environment that is warm and supportive," said Patrick. "Our care team loves how the new space accentuates the birthing experience for families. It allows us to provide the same level of attentive, high-quality care but now in a more spacious and comfortable environment using the latest technology and equipment."
It was that clinical care that also made a positive impression on the Woods.
"Everyone we interacted with was very professional, kind and caring," Blake said. "The doctors and residents were also attentive and took time to explain all the procedures and answer questions. Everyone seemed genuinely happy to work there and that positive attitude helped put us at ease."
Each of the newly renovated labor suites features:
A Jacuzzi tub with wall and handheld shower heads, which can be used for comfort during labor
Headwalls that allow physicians to better monitor the health of babies during labor and delivery
State-of-the-art infant warmers that keep air and oxygen supplies for newborns quick and easy to access.
Mothers labor, deliver and recover in the same room. Afterward, to provide a quieter, more relaxing atmosphere, families are moved to a private postpartum suite.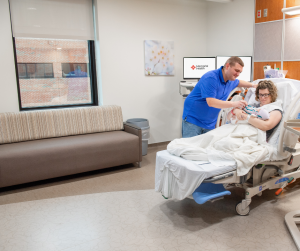 The Woods spent one night at SMH after delivery before being discharged. They appreciated the night nurses who made sure they had everything they needed to care for Nolan overnight. The education on newborn care and postpartum care was also helpful, and they especially enjoyed the food from the hospital's cafeteria.
"We're looking forward to watching Nolan grow and interact with his big brother, Brennan," said Alanna. "Nolan is a happy and healthy baby."
Related Resources
Springfield Memorial Hospital Opens Newly Renovated Maternity Suites
The "Good Old Days" and Baby Safety
Infant Formula Shortage and What Not to Do