Pediatric Allergies are Nothing to Sneeze At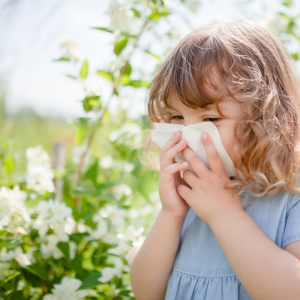 A child's chronic tendency to develop ear infections may not just be bad luck. Allergies could be the culprit.
Central Illinois can be a hotbox for allergic rhinitis, otherwise known as seasonal outdoor and indoor allergies. And children are especially vulnerable. About 40 percent of children experience allergies at some point, most often between the ages of 2 and 6.
"Allergic rhinitis is the most common chronic childhood condition we see," said pediatrician Ashish K. John, MD, who with his wife Teena John, MD, is a physician at Memorial Care – Koke Mill. "It is a very common issue that I hear about almost every day."
Allergies most often flare up in spring, summer and early fall because of the amount of pollen in the air and mold from crops. In children, allergy symptoms can include frequent sneezing, runny nose and itchy eyes. Left untreated, these symptoms can lead to secondary infections such as sinusitis or ear infections. If a child is experiencing these types of infections frequently, allergies might be to blame.
In addition to their environment, children's genes also may play a factor in their likelihood of developing an allergy.
"Allergies can be genetically transferred," Dr. John said. "And if both parents have allergies, then there's a better than average chance the child will have some symptoms."
Once allergic rhinitis is suspected and identified, the child's pediatrician can discuss options for preventing and treating symptoms. In some severe or refractory cases, a specialist will likely need to become involved.
Some lesser little-known facts about pediatric allergies:
It can take the body some time to build up a reaction to an allergen as the child is repeatedly exposed to it, which is why some children don't react to something — pollen, or perhaps the family pet — until they've reached the toddler years.
Pets, by the way, are one of the biggest causes of indoor allergies.
Breastfeeding exclusively for a child's first four months helps reduce a child's risk of reacting to allergens later in life.