Rotation at Jacksonville Memorial Hospital Helps Launch Physical Therapy Career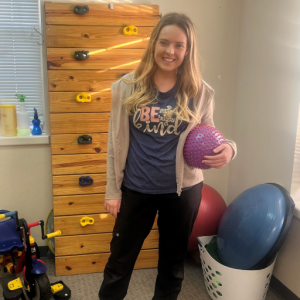 Emelia Baer had never heard of Jacksonville, Illinois, before she was assigned to complete her clinical experience with Jacksonville Memorial Hospital (JMH). The then 23-year-old was finishing up her doctorate of physical therapy at Saint Louis University when she was placed at JMH.
"This placement turned out to be one of the most amazing experiences I had in PT school," said Emelia, who now works in Nashville, Tennessee, her home state. "As a student physical therapist, I had the opportunity to evaluate and treat a wide variety of patients under the supervision of my clinical instructor in the outpatient rehab department at JMH. I treated adult patients with orthopedic and neurologic impairments in the adult rehab gym as well as children with a variety of developmental and neuromuscular conditions in the pediatric rehab gym."
Emelia enjoyed working with all her patients but found the pediatric patients most rewarding. She loved working with families to help babies and young children gain independence and meet their developmental milestones. She also appreciated the caliber of professionals she worked with at JMH, especially her colleagues in the rehab department.
"I would not be near as knowledgeable and confident in my abilities as a physical therapist without the help of everyone at JMH," she said. "I am especially thankful for the guidance of my wonderful clinical instructor, Kayla Timoney, PT, DPT."
One of Emelia's biggest challenges was also a major benefit of doing her first full-time clinical rotation at JMH – the variety of patients she learned to evaluate and treat. At first, she felt overwhelmed treating such a wide variety of ages and conditions, but she soon realized the experience would be invaluable as she moved forward in her career after graduation.
Emelia graduated with her doctor of physical therapy from Saint Louis University in May of 2022. She returned to Nashville and now works at Associates in Pediatric Therapy. She sees pediatric patients from birth to age 20 with developmental, congenital, neurological and orthopedic conditions. She also sees early intervention patients.
"I love my job," Emelia said recently via email. "Getting to work with the pediatric rehab patients at JMH during my clinical was so helpful in building my confidence and creativity when working with pediatric patients. I also received amazing experience with the handling and facilitating of gross motor skills for babies and toddlers at JMH."
Memorial Health works directly with colleges and universities to host students for clinical and non-clinical experiences including dietetics, medical coding, pharmacy, physical therapy, radiography and other areas. Students interested in more information should check with their advisor. College advisors can email WorkForceDevelopment@mhsil.com for more information.