Winterize Your Mobility Scooter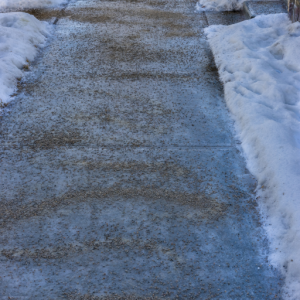 As winter bears down, remember to store and care for your mobility scooter so that it will be fully functional and ready to serve you come warmer weather.
"Scooters should only be used in dry conditions," said Sarah Frey with Memorial Home Medical Supply. "When rain or snow starts to fall, your scooter should be brought indoors for storage or for use inside your home. In addition to safety concerns, snow and rock salt can damage the overall structure and the mechanical elements of your scooter."
To ensure your mobility scooter remains working smoothly and ready for use, follow these tips for storing and caring for your scooter:
Store your scooter in a safe and dry space, preferably inside. Leaving your scooter outdoors exposes the scooter to cold temperatures, which can deplete the battery and damage the body of the scooter.
Give your batteries a boost! You should charge the battery on your scooter at least 8-10 hours after each use. If you do not use your scooter at least once each week, you'll need to charge the battery overnight. Unplug the charger once charging is complete, as the charger will not restart charging until it is unplugged and reset. The deep-cycle lead acid batteries installed on most mobility scooters must stay in a charged state to ensure battery life longevity.
If you must store your scooter in a cold area, such as an unheated garage, consider removing the battery to store inside your home.
Remember: If there is snow – do not go. Ice and snow on the roads and walkways will not only put the structural integrity of your scooter at risk, but also pose a risk to you, the operator. In these potentially dangerous cold-weather cases, have an alternative plan to safely get where you need to go. Call a friend or family member to help or use a local mobility transportation service.
For additional tips on how to deal with mobility within winter weather conditions, listen to this radio interview with Frey and Ryan Sibert on NOWDecatur. Looking to purchase a mobility scooter? Contact a professional technician today at Memorial Home Medical Supply, 217-788-4663 or 800-582-8667. Or view our online store at memorial.health/homemedicalsupply.