Four Tips for Coping with Back to School Separation Anxiety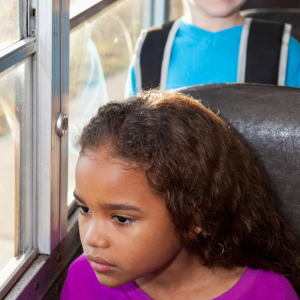 A new school year is quickly approaching, which means many kids are helping pick out a new backpack and gathering school supplies. For some children, going back to school can increase feelings of anxiety because they will be separating from a parent or another primary caregiver.
"Children with separation anxiety worry a lot about their caregivers and may be concerned about something bad happening to them," said Amber Olson, LCSW, regional director for Memorial Behavioral Health. "They also worry about the possibility of something happening that might cause them to be separated from the caregiver."
When a child has separation anxiety, they show signs of distress, including having a tantrum or crying when they are separated from their primary caregiver. Separation anxiety is most common in children, usually under the age of 12, but it is also seen in adolescents and adults.
Children with separation anxiety may be hesitant about going or even refuse to go places, such as school, daycare or spending the night at a friend's house. It is not unusual for children with separation anxiety to try to remain close to their caregiver when they are at home.
"They may have trouble at bedtime and insist that someone stay with them until they fall asleep, or they may have nightmares related to being separated from caregivers," Olson said. "They may also complain about physical problems such as stomachaches or headaches when separation occurs or is expected."
Here are some tips for parents or caregivers who have a child with separation anxiety:
Establish a structured routine. Consider posting a schedule to help everybody stay on track.
Avoid a long farewell. When it comes time to leave for school, whether it's getting on the bus or getting out of the car at school, provide some quick comfort and reassurance such as "I love you," or "Have a good day. See you this afternoon," and then be on your way.
Don't look back. Resist the urge to keep going back to give hugs and pats on the back.
Consider a reward. Recognize your child for going to school and staying there all day by having a treat ready or spending some one-on-one time together when they return home.
As difficult as it may be to see a child upset about having to separate from a caregiver, letting the child stay home might increase the anxiety. Parents who keep the child with them reward the worries and complaining. This can make it more likely that the child will continue to be anxious about leaving the house or caregiver in the future.
If you absolutely cannot get the child to go to school, make sure their day is not full of fun or lots of attention from the caregiver.
Memorial Behavioral Health provides outpatient behavioral health services for children, adolescents, young adults and adults. Programs address emotional, social and behavioral needs of individuals and their loved ones who experience difficulties across home, social and community settings.
Call Memorial Behavioral Health at 217-525-1064, Monday through Friday, 8:30 a.m. to 4:30 p.m. to be connected with services.
Related Articles
Don't Put Off Those School Physicals: Here's Why