Don't Put Off Those School Physicals: Here's Why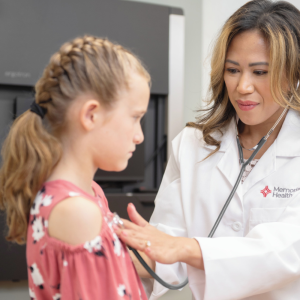 Those annual back-to-school physicals are kind of like measuring your child's height on a door frame at home with a pencil – they help measure from year to year if your child is growing in a healthy manner, both physically and mentally.
Weight and height are documented to ensure appropriate growth and to screen for obesity. If risk factors are present, a fasting blood sugar screening may be done to rule out diabetes. An eye test, blood pressure measurements, heart rate and other vital signs can also determine if your child is healthy and has no underlying conditions.
"Yes, the school physical is required by law, but it serves so many other important purposes," said Roxanne Bautista, MD, family medicine provider with Memorial Care on West Hay in Decatur. "We track developmental milestones and talk together about the importance of healthy habits like good nutrition choices, regular exercise and getting enough sleep. For tweens and teens, we can screen for depression, STDs and puberty issues."
Illinois requires school physicals for children in day cares, preschool, kindergarten, sixth grade and ninth grade.
Do you need to find a new provider? Memorial Care Primary Providers and Locations
Related Articles
Back to School Anxiety: Tips for Kindergartners to Teens
Back to School Time: Vaccinations Protect Your Children (And You)
Schedule Your Child's School Physical Now