After Five Years on Transplant List, Local Man Receives New Kidney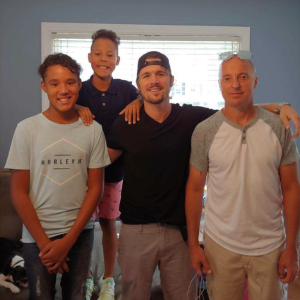 Tony Meredith, 50, enjoys playing basketball with his three sons and golfing with friends – all possible because of organ donation.
More than 100,000 people are waiting for lifesaving organ transplants according to Donate Life America, with 85% waiting for a kidney. Tony knows how fortunate he is.
"I am so unbelievably blessed for this," he said. "I found out I had kidney failure at age 36, and my kidneys were around 20% function. I was put on the transplant list at The Alan G. Birtch, MD, Center for Transplant Services at Memorial. The staff there are amazing people."
While waiting for a donor, the small business owner struggled with the thought of dying and leaving his wife and young children.
Brenan Dennison, RN, a transplant coordinator and Tony's pre-transplant nurse, was inspired by his positive attitude despite the odds.
"He showed so much determination and discipline," she said. "He completely changed his diet and went vegan trying to remain as healthy as he could and remain off dialysis. When I think of Tony and what he endured waiting for a kidney, it brings tears to my eyes. He had a few opportunities for kidneys that didn't work out. But his patience eventually paid off!"
The transplant team at Memorial Transplant Care stood by Tony throughout his journey. When a kidney match finally became available, five years after Tony's name went on the transplant list, Mark Garfinkel, MD, associate professor of surgery at Southern Illinois University School of Medicine and surgical director for Memorial Transplant Care, performed the transplant surgery.
Today, Tony's life has returned to normal.
"It feels unbelievable and amazing to have been given a new lease on life," he said. "I am enjoying a whole new outlook!" He is also paying it forward.
"Tony is a great ambassador for organ transplantation," said Christine Deters, RN, MSN, MPH, CCTC, Tony's post-transplant nurse. "He understands and appreciates the legacy of his donor and the selfless choice his donor's family made during an emotionally crushing time. Tony honors his donor every day by doing all he can to maximize the greater health his donor's gift has given him and living his best life."
Want to learn more about organ donation?
April is National Donate Life Month. In 2022, nearly 21,300 donors brought new life to recipients and their families. Virtually anyone regardless of age, race or gender can become an organ or tissue donor. Four thousand men, women and children from Illinois are on the organ transplant waiting list. Register today to give them the gift of life.