Gardening: A "Green" Workout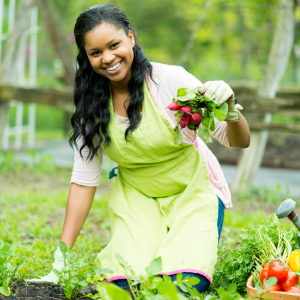 Avid gardeners often describe how working in the soil gives them a sense of peace and well-being. But did you know it can also qualify as exercise?
"If you've ever woken up sore after a day spent landscaping or working in the garden, you know it can be physically demanding," said Lori Iocca, MS, RN, with Memorial Wellness Center. "If you don't enjoy working out in the gym, you can get many of the same benefits from working out in your yard."
Many garden tasks burn calories and strengthen your muscles. Weeding and digging require repeated stoops and lunges that mimic the moves in popular aerobic workouts. And lifting pots and bags of soil can be just as beneficial as lifting weights.
Like any workout, though, gardening carries a risk of injury. Remember to lift with your knees and take steps to prevent repetitive injury when using hand clippers or other tools.
Gardening has other health benefits too. For example:
Reduced stress. "Gardening encourages us to be mindful and live in the moment," said Iocca. "Spending time in nature – even if it's just your backyard— has also been shown to reduce stress."
Access to healthy foods. Growing your own vegetables is rewarding, but it can also boost your diet as you learn healthy new recipes to use up your bounty of zucchini, tomatoes or green beans.
Exposure to sunlight. According to the National Institutes of Health, exposure to sunlight during the summer months can decrease blood pressure while increasing levels of vitamin D, which is crucial for healthy bones. Just don't forget the sunscreen. Dermatologists say you can still get sufficient exposure to vitamin D from sunlight while wearing sunscreen to protect your skin from harmful UV rays.
Opportunity to socialize. Remember that bounty of zucchini we mentioned earlier? You'll want to share some of that with your neighbors. Gardening gives you the opportunity to get outside and interact with the people around you – which has also been proven to boost your mood and reduce stress. You might even be able to work in a community garden in your area. Visit Enos Park Neighborhood Gardens for info about summer events and activities including volunteer opportunities, produce giveaways (if there are excess veggies) and recipes.
"Gardening has many health benefits, and it's a form of exercise that you might overlook in your daily routine," said Iocca. "If you're new to gardening, this is the perfect time of year to get started."
Want to learn about raised bed gardening? Taylorville Memorial Hospital will offer a free Raised Bed class, Wednesday, May 17, from 4:30 to 5:30 p.m. at Taylorville Memorial Hospital, 201 E Pleasant St.  The class will show you how to produce the most from your gardening space. Learn how to plant densely, use vertical gardening, succession planting and day-length strategies, choose the best cultivar choices and more. Think "inside the square" and understand what is needed to prepare a square-foot garden. Register online by May 15 here.
Related Articles
Four Ways to Manage Spring Asthma and Allergy Triggers
Time Change Blues: How Bad is Losing an Hour of Sleep?