Minority Mental Health Month Raises Awareness of Unique Struggles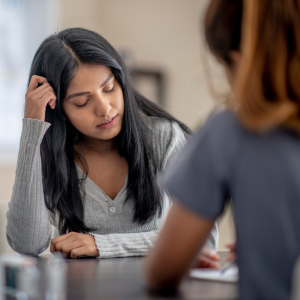 Each July, the U.S. Department of Health and Human Services Office of Minority Health observes National Minority Mental Health Month to bring awareness to the unique struggles that marginalized racial and ethnic communities face in accessing care for mental health in the United States.
The statistics are troubling: in 2021, it was estimated that only 39 percent of Black or African American adults, 25 percent of Asian adults and 36 percent of Hispanic/Latino adults with any mental illness were treated, compared to 52 percent of non-Hispanic white adults.
There are multiple barriers to care, including cost and insurance as well as difficulty finding a provider from one's racial or ethnic group. Some communities have stigma around mental healthcare, too. Memorial Health is committed to delivering equitable mental healthcare and to reducing the health disparities that impact the mental well-being of racial and ethnic minority communities.
"It is our job to make sure we not only raise awareness, but that we strive to be highly intentional about the way we reach out to and serve underrepresented members in our community who require mental health support," said Diana Knaebe, system administrator with Memorial Behavioral Health. "It is a responsibility we take seriously."
MBH is actively taking steps to:
Recruit mental healthcare providers who reflect the race and ethnicity of the populations served.
Provide training to mental healthcare providers to promote inclusion, belonging, connection and support.
Offer education and community support to combat stigma surrounding mental health.
Promote free and low-cost mental health resources through multiple channels.
Increase reach of mental health information to marginalized racial and ethnic communities through community connections and support of community initiatives.