No Magic Pill: Five Areas to Tackle with Memorial Wellness Center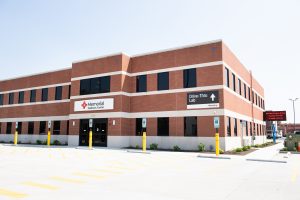 Unfortunately, there are no quick fixes for good health nor is there a pill that effortlessly takes off pandemic pounds or revitalizes your interest in exercise and nutrition. However, the Memorial Wellness Center offers comprehensive and customized treatment options for weight loss and improved health through a multidisciplinary approach.
"We are led by a team of physicians, including bariatricians and bariatric surgeons, who specialize in obesity medicine, who work alongside you and your primary care physician to determine the right treatment option for you given your specific health profile," said Nicole Florence, MD, medical director for Memorial Wellness Center. "Plus, patients are supported by a team with expertise in medical weight management, nutrition, lifestyle and fitness to provide an individual treatment plan to help you reach your goals."
The Memorial Wellness Center works closely with patients in each of the following areas as well as other specialties:
Patient optimization: Designed to help you prepare for an elective procedure, such as orthopedic or hernia surgery, so you experience the best possible postsurgical outcomes. The individualized patient optimization plan helps lower risk for complications and better prepares you for elective surgery. For example, your surgeon may ask that you lose weight or quit smoking prior to your surgery to reduce infection risk and maximize surgical outcomes.
Surgical weight loss: For patients who struggle with obesity and need to lose a substantial amount of weight to reduce health risks, dieting and exercise alone may not be enough. Bariatric surgery, along with lifestyle changes, could be the right treatment option for you. Memorial Bariatric Services holds a prestigious national award from the Metabolic and Bariatric Surgery Accreditation and Quality Improvement Program of the American Society for Metabolic and Bariatric Surgery, which means our program meets the highest standards for patient safety, advocacy and clinical effectiveness.
Non-Surgical weight loss: Medical therapies monitored by physicians, nurse practitioners, physician assistants and registered nurses may include: monthly visits with our nurse practitioner or physician to monitor progress; medications for weight loss, if appropriate; consultations with specialists, if appropriate (such as cardiologist, pulmonologist); and more.
Diabetes management: Our accredited diabetes services program helps patients learn how to care for yourself, improve control of your blood glucose and your overall health. Whether prediabetes, type 1 or type 2, appropriate management can greatly improve quality of life. Learn how to better manage glucose levels to minimize or avoid associated health conditions, thereby reducing associated risks. Some patients have even reversed their diagnosis.
Nutrition counseling: Nutrition affects the prevention and treatment of conditions including: heart disease, stroke, cancer, high blood pressure, diabetes and cirrhosis. Nutrition therapy also plays a significant role in the medical management of high-risk pregnancies, gastrointestinal diseases and hyperlipidemia. Prescribed nutrition therapy is provided by registered dietitians qualified by education, experience and expertise. A registered dietitian will assess your nutrition status and tailor nutrition recommendations to your individual eating habits, lifestyle, budget and nutrient needs required by your diagnosis. Culinary Medicine classes teach meal preparation of several recipes to learn basic culinary techniques while engaging in conversation related to food-medicine connections.
Related Articles
Almost 20 Years After Bariatric Surgery
Make Healthy Nutrition Choices to Reduce Colon Cancer Risk
Try Mindful Movement to Refresh Mind and Body