Tips to Restore Independence and Safety in the Home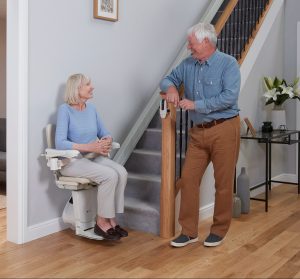 Staying at home while aging in place is a goal for many, but the challenge is to maintain a safe environment that allows for normal day-to-day activities and also protects health. Many home accessibility solutions can increase safety and reduce worry in the home.
Home modifications can be an overwhelming decision process for many families. Deciding what products will help with mobility or which modifications to make can be overwhelming. Explore the descriptions below to help you better understand home accessibility and how to create a safe environment of independence in the home.
Stairlift – provides a safer way to use stairs in the home. Consisting of an electric seating device and railing system, stairlifts are easy to use and provide a comfortable ride up and down stairs independently.
Home ramp system – exterior home ramp systems are easily installed to provide a safe way to enter and exit the home. Made of durable materials, ramps withstand weather conditions and are easy to install. Home ramp systems assist users of wheelchairs, power chairs and scooters.
Threshold ramps – a threshold ramp is a small rubber or aluminum ramp that covers the difference on the edge of a surface to avoid catching or tripping. With easy installation, it's the perfect product to cover the gap between door entrances to ensure a smooth transition.
Want to learn more?
Memorial Home Medical Supply offers a variety of home access equipment. View the online catalog and call today to schedule a free in-home estimate with a skilled technician.
Related Articles
Sweet Dreams: Maintenance Tips to Keep Your CPAP/Bi-Level Unit Clean and Germ Free
Should YOU Wear Compression Socks?
Why Caring for a Loved One at Home is Doable