Back-to-School COVID-19 Safety Tips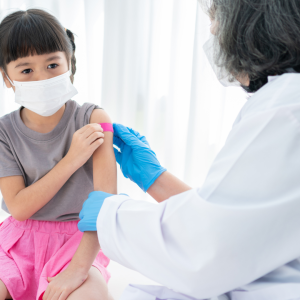 Students return to school this month, and COVID-19 may top parent's concern list right up there with stomach bugs, influenza and common colds.
Anna Richie, MD, clinical director for urgent care at Memorial Health, encourages parents to talk with their kids beforehand about how to stay healthy at school and around their friends.
"Focus your child on common-sense tips to stay away from germs like frequent handwashing, not touching your eyes, nose or mouth and sneezing or coughing into your elbow," said Richie. "Parents need to be especially vigilant not to send your child to school with fever, respiratory issues or other COVID-19 symptoms."
COVID-19 School Guidelines
The state of Illinois has adopted the CDC's updated guidelines for schools. Here's what to know.
After a positive test
Students should isolate at home for at least five days, regardless of vaccination status.
Return to school after five days, masked, if fever-free with improving symptoms.
Continue to mask for ten days after initial onset of symptoms.
After an exposure
Quarantining at home is not necessary as long as the student is not experiencing symptoms. Wear a high-quality mask for ten days and get tested after five.
Testing
If the student has symptoms, test immediately.
If the student was exposed to COVID-19 and has no symptoms, wait at least five full days after your exposure before testing. Testing too early may lead to an inaccurate result.
Vaccination Remains Powerful Preventive Measure
The COVID-19 vaccine is now available for all children ages 6 months and older. For most kids and teens, a primary dose of the mRNA vaccine (either Pfizer or Moderna) is two shots spaced apart by a few weeks. (Pfizer recommends a primary dose as three shots for children between the ages of 6 months and 4-years-old.)
"COVID-19 vaccination is an essential step to help protect children six months and older from COVID-19 and its complications," said Ashish John, MD, with Memorial Care. "Getting kids vaccinated against COVID-19 can help keep them from getting really sick if they do get COVID-19. Vaccinating children also helps relieve the strain on families by providing greater confidence in children successfully participating in childcare, school and other activities."
The Memorial Drive-Thru Lab on South Sixth in Springfield now offers the Pfizer COVID-19 vaccine to children aged 6 months to 5 years. Children do not need to be current patients of Memorial Care to receive the vaccine, but a parent or guardian must be available in person or by phone to provide consent. To schedule an appointment, visit vaccination.mhsil.com.
Schedule Preventive Care with Pediatrician or Primary Physician
If your child has missed an annual checkup, be sure to schedule one as soon as possible to stay current on your child's growth and development. Physical screenings, a mental health check and any required immunizations are all included in this important yearly appointment.
"At our wellness visits with young people, we cover many areas – the emotional and social development, early signs of depression and anxiety, healthy eating, exercise and sleep as well as barriers to good school performance," said Virginia Dolan, MD, a pediatrician with Memorial Care. "It is a time to piece together everything that has occurred in the prior year for your young person and family."
Find a provider: Memorial Care Primary Providers and Locations
Related Articles
Back to School Anxiety: Tips for Kindergartners to Teens
Back to School Time: Vaccinations Protect Your Children (And You)
Schedule Your Child's School Physical Now