Don't Let Mental Health Stigma Stand in Way of Seeking Help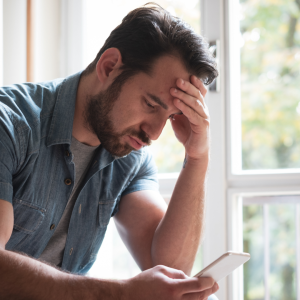 Social stigma against mental illness often prevents people – especially men, minorities and older adults – from seeking treatment.
"If you don't feel comfortable enough to talk to a friend about your mental health struggles, you're certainly not going to talk to a therapist to seek that first step to get help," said Tim Fanning, a behavioral health care coordinator with Memorial Behavioral Health.
"A stigma is something people are typically ashamed of. It's a 'badge of disgrace' people believe they have to wear," said Cody Spoonmore, also a behavioral health care coordinator at the mental health agency. "Unfortunately, mental health carries an extremely heavy stigma."
Men, minorities and older adults are all less likely to seek help for mental health issues, such as depression and anxiety disorders, panic disorder, obsessive-compulsive disorder and post-traumatic stress disorder.
Men often do not seek help for mental health issues because they have been conditioned to believe asking for help is not masculine behavior, Cody said. "We're supposed to be tough. We've had it drilled into our heads since we were boys."
Minorities face inequities in the healthcare system and frequently encounter discrimination and language barriers in treatment settings without easy access to resources, Tim said. Older adults face a generational issue because they didn't grow up with mental health being a central focus. Both encourage individuals who are experiencing mental health issues to stop suffering in silence, which is what too many people do. "Reach out to someone," Cody said. "Engage in community resources, like the resources we offer – call our number at 217-525-1064."
"A lot of people don't have a support system," Tim said. "They think it's their fault they're lonely, that they don't have a lot of friends. But a person can build a solid support system without a tight-knit group of friends."
If you're too nervous to take that first step in person, Cody recommends telehealth as an option. Telehealth allows you to meet with a counselor in the safe and familiar environment of your own home.
For help taking that first step, consider these easily accessible options:
The Living Room provides an alternative to hospital emergency rooms for adults experiencing psychiatric emergencies. Available to anyone over the age of 18, individuals receive free support from peer and mental health professionals in a safe and calming atmosphere. Upon arrival, individuals are linked with a peer counselor. Hours are noon to 8 p.m. Mondays through Fridays. The address is 710 N. Eighth St. in Springfield.
Memorial Behavioral Health offers same-day walk-in services at its clinics in Springfield, Jacksonville and Lincoln. Individuals meet with a specialist who helps determine if mental health treatment and support services are appropriate. Hours are 8:30 a.m. to 4 p.m. Mondays through Fridays. Clinics are at 710 N. Eighth St. in Springfield, 340 W. State St. in Jacksonville and 515 N. College St. in Lincoln.
Related Articles
Mental Health Crisis: Outpatient Help or Emergency Department?
Try Mindful Movement to Refresh Mind and Body
Struggling? You Are Not Alone.