Miss Illinois Contestant Speaks Out against Mental Health Stigmas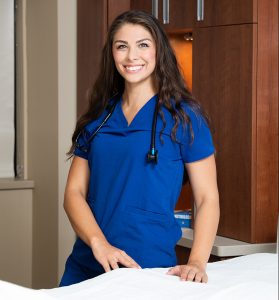 Darlene Steinkamp, RN, is an accomplished young woman pursuing her doctorate in nursing practice with a goal to work in an ICU as a nurse practitioner. She is also competing to be named Miss Illinois this summer and using her platform to speak on the dangers of mental health stigmas.
Darlene had already overcome several life challenges to graduate from nursing school in 2019 – a broken home, a high school breakdown and the pressures of her first semester in nursing school. After graduation, her entry into the nursing arena arrived just ahead of a global pandemic.
When the COVID-19 pandemic pushed frontline healthcare workers to the brink, she was among those who struggled with the intense emotions surrounding vast suffering and loss on her unit.  Her nurse manager called her in with encouragement that helped to change her perspective.
"He was a nurse who had worked in the Emergency Department, Trauma ICU and Transplant, and he told me that having emotions over losing my patients did not make me less of a nurse," Darlene said. "Most importantly, he told me 'It's okay not to be okay.' That really clicked in my head and drove my initiative to let others know that very thing. To understand the struggles you face are okay to feel. It does not make you less of a person to feel, it makes you human."
Today she works as a charge nurse in a surgical ICU at Springfield Memorial Hospital. As she prepares to compete in the Miss Illinois competition June 6 – 11, Darlene hopes she can persuade others to "End the Stigma on Mental Illness: It's Okay Not to Be Okay."
If you or someone you love needs help coping with mental health challenges, consider these easily accessible options:
Memorial Behavioral Health offers same-day walk-in services at its clinics in Springfield, Jacksonville and Lincoln. Individuals meet with a specialist who helps determine if mental health treatment and support services are appropriate. Hours are 8:30 a.m. to 4 p.m. Mondays through Fridays. Clinics are at 710 N. Eighth St. in Springfield, 340 W. State St. in Jacksonville and 515 N. College St. in Lincoln.
Related Articles
Mental Health Crisis: Outpatient Help or Emergency Department?
Try Mindful Movement to Refresh Mind and Body
Struggling? You Are Not Alone.